Jump-start your career

GM Financial is experiencing tremendous growth and we have a variety of opportunities. Help us put customers behind the wheel of their next vehicle and drive the success of auto dealerships across our global network.
Consumer
Our customers receive outstanding customer service from GM Financial. Team members working in our consumer division are interacting with customers on a daily basis, and it's one of our top goals to ensure that our customers are addressed politely and that they are treated with the utmost respect.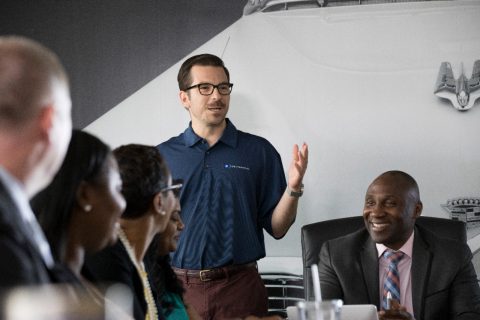 When a GM Financial customer has a question, request or an unresolved issue about an account, the Customer Service team provides helpful and knowledgeable service. Our team in Canada helps monitor funding, process of payment and delinquent accounts for customers in their respective region. This team also helps customers make payment arrangements to bring their accounts current.

GM Financial's Dealer Services division works directly with auto dealers through financing and training of our programs. Dealer Services consists of Sales and Credit Divisions, Commercial Lending Services, Loan Services and Dealer Operations Support and Originations. We support dealers through financing, with knowledge of our products, and by solving problems and answering questions about transactions.

DEALER SERVICES
GM Financial's Dealer Services division works directly with auto dealers across North America. Building solid relationships with our dealers is key to the success of our company and business. Our teams are constantly working with our dealers one-on-one to train, educate and inform them on GM Financial's programs.