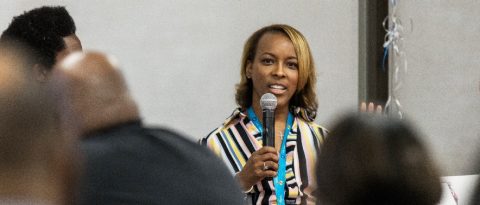 Find Your Calling: Shunda Robinson Discusses Diversity, Equity and Inclusion at Auto Finance Summit 2020
Among the leaders who attended Auto Finance Summit 2020, GM Financial's Shunda Robinson shared on the importance of finding your calling and focusing on diversity, equity and inclusion in a global work environment.
The Auto Finance Summit is an annual conference of industry leaders sharing new strategies, technology updates and educational workshops from top innovators in the auto finance industry. This year, organizers decided to tackle a different topic that is on the hearts and minds of those in any industry, diversity, equity and inclusion.
Shunda, Global Vice President of Diversity, Equity & Inclusion, was one of three panelists invited to speak during a live session called Promoting Diversity, Equity & Inclusion through Empowerment & Equity. The panel also included Ashley Brundage, VP of Diversity & Inclusion at PNC Bank, and Charita Henderson, VP of Leadership Development at Exeter Finance.
Shunda's work at GM Financial includes starting a global company mentoring program and founding a Diversity Council for team members and executives. Her accomplishments recently garnered national recognition as she was selected as one of the "Top 100 Under 50" by Diversity MBA Magazine.
Shunda provided insight into what diversity, equity and inclusion mean at GM Financial and detailed how we lead by example. She emphasized that we all have a part in this path toward a more accepting space that invites anyone and everyone to the table.
Here are some highlights of the panel discussion:
Q: Since you have taken on a role within your company focused on D&I, can you share what led you to seek that opportunity? 

A: The saying goes, "Find your calling," but my calling found me. Having an HR background and being in the HR field for 25 years led me to this opportunity. At first, I was concerned with leadership support that this role would have, and, after going through several interviews with the top leaders, I found just how supportive and encouraging they all were. It's been an incredible journey building up my team from nothing, and having built it from the ground up has been so fulfilling.  
Q: How do you define these terms: diversity, inclusion and equity?
A: I believe diversity refers to who works at your organization and inclusion is who gets the opportunity; while lots of organizations may have diversity and representation, it's the inclusion that's the missing ingredient. Who is in your leadership rank? Who's at the table making those critical decisions for the organizations?
In response to Shunda, Charita added, "Diversity is like being invited to the party, and inclusion is being asked to dance."
Q: Why is having a D&I strategy important and why is it necessary for the strategy to touch every part of the company, from the top down? 
A: Customers need to see themselves reflected in the company. The team members need to see reflection in leadership. Each level needs to see the possibilities available at the next level and be shown that there is space for them at the organization.
More importantly, not only is there space but also opportunities to more than just survive – to thrive. Opening up these endless opportunities for whoever may come along  – a customer, a candidate, a supplier – people need to be able to see themselves in every level of the organization.
Q: What initiatives have worked at your organization to foster inclusion and build diversity? And what areas have, in your experience, historically lacked diversity? 
A: I think the biggest opportunity is in senior leadership positions. Four years ago, understanding that our footprint is global, one thing we did was figure out a way to bring the organization together. Once the diversity piece was there, the inclusion piece was the focus for us, so we started an internal mentoring program.
There's a lack of diversity at senior leader levels, which led to us needing to prepare people at the lower levels so that there is a development that strategically and intentionally fosters them into those higher-level positions. This mentorship program also helped leaders find talent that is already in the organization.
Oftentimes, there are lots of underrepresented people who aren't very visible in the company itself, so this program puts a focus on the diversity aspect of it. Mentoring could be a game changer for marginalized or underrepresented people who just need to be given the opportunity. This exposure helps them go after that.  
Q: How can organizations make sure they are intentionally reaching diverse groups of talent?
A: You have to be intentional around development and understand the career path of each individual. It is important to know what they want and create a concrete development plan that helps them work toward that. The organization should be willing to invest in resources and money that will help retention rates. Employees are more likely to stay in organizations where they feel invested.  
When you give them the resources that they need and help them get exposure to senior leadership, that makes more sense than getting into an opportunity elsewhere. This would make me want to stay where I am appreciated for all the diversity I bring to the table, which is a critical piece in this equation.  
Q: What do you identify as the first step businesses should take in creating a culture of diversity, equity and inclusion across the entire organization?
A: It is important for an organization to understand where they are. Oftentimes, they believe they are very diverse and don't realize it until they look at their statistics and numbers. I would encourage organizations to include as many diverse voices in the conversation as possible because you can't have one dimensional voices all around the table.
To go about hiring more diverse talent, I would reach out to some national diversity councils and take a step in a direction that can lead recruiters to diverse talent; the talent is there but you have to focus on Black/Hispanic/LGBTQ+ talent. It's there, we just have to go after it.
Q: How should organizations start on their D&I journey?
A: Just start. Take a look at your organization and see what's missing. If you've never been a part of a marginalized or underrepresented group, you are going to have a harder time understanding the perspective of those who are, which is why we need to include those voices in every room and every stage.
Q: In the midst of a pandemic, how has COVID affected your D&I initiatives and the support you provide employees given the disproportionately negative effects the pandemic has had on minority groups?
A: We've had to pivot our approach during this time. We had to change plans but then suddenly we were facing tragedies such as the deaths of George Floyd, Breonna Taylor, and Ahmaud Aubery. I'm really proud of how we have responded, and I applaud the efforts of those organizations who have stood up to provide a safe space for team members.
I have said to our leaders internally, "Your African American employees are not okay. It is not safe to assume that just because people are attending meetings and conference calls that they're okay."
We decided to hold several listening sessions across the organization to really give our team members the opportunity to show up authentically and express how they were feeling, and that went a long way. We've continued to have that dialogue in a series called Continuing the Conversation. My goal is that we normalize this conversation in the workplace.
There are things you don't talk about in the workplace, but I think it's time to change that. Get comfortable being uncomfortable and have these tough conversations.  
Q: How can financial leaders best set an example for their dealer partners? 
A: It is by leading first and setting that example, and it starts at the top. Our CEO saw the importance of having D&I report directly to him and I believe it raises the level of importance and exposure of D&I across the organization. Often times, when it stays under human resources, it seems optional. When you raise that level of importance, it isn't just seen as an option anymore and becomes an expectation of every team member. This is so that leaders in the lending space can see how important it is to leaders of organizations like ours.